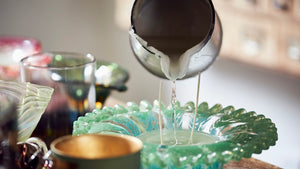 Create Something truly unique ...
INSPIRE US WITH YOUR OWN CHOSEN VESSEL
Rachel offers a unique refill service where you are able to replenish your chosen vessel with your favourite RV scent. Whether it is a used candle container, treasured family heirloom or a receptacle selected to perfectly co-ordinate with your home interior and taste. Follow these simple steps below.
STEP 1
Select your chosen vessel to be filled with your favourite RV scent. Calculate the volume of wax needed by filling the empty vessel with water and estimating to the nearest 100g.
Please note you will need to drop off your vessel, or send it to us, at 69 Kinnerton Street, London SW1X 3ED.
Our candle etiquette tips can help guide you to safely remove excess wax from a vessel.
STEP 2
Select your scent of choice from the scent library below. Select the correct wax weight as per the volume calculated in Step 1.
STEP 3
Finish your shopping. Once payment is made carefully wrap and send your vessel to us or drop it off at the shop. Please include your contact details.
If you need inspiration we have a huge range of pieces in our shop.