Rachel on her unique refill service
"Something sentimental, something old or inherited; perhaps it has been tucked away in a cupboard for years...It's a huge privilege to be able to breathe new life into these cherished pieces of history."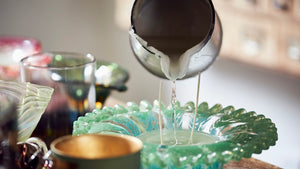 Sustainability
Rachel introduced her refill service over ten years ago, with sustainability ever present in her mind. The refill service encourages customers to refill either RV vessels or bespoke items, treasured by her customers, to minimise both waste and land fill. This has been a tremendous success and represents over 40% of her total business.

Of course, the sustainability journey does not end there. Rachel continues to source new ways to label and package her products to eliminate plastic and unnecessary waste. Her packaging boxes are designed in such a way as to encourage repurposing them for future use. Discounts are also offered for any customers choosing to take their goods home unpackaged.
SCENT LIBRARY
The Rachel Vosper Scent Library encapsulates the full spectrum of florals, citrus, spice, sweet, aromatic and wood fragrances.  Each fragrance conjures a distinctive association for each individual and, with such a broad range, there is something for everyone.
Rachel chooses specific ingredients for special unique blends.  For example, with our wedding gift service, she can bond together experiences and memories of the special couple - capturing different elements from each individual to curate an incredible sensory experience.
Rachel Vosper
Rachel has been a candle chandler since 1994. Inspired by stunning landscapes, first in Barbados then Devon, she opened her Belgravia atelier in 2011.  
Her signature range incorporates beautiful hand poured candles and home fragrances, using only the finest natural and sustainably-sourced ingredients.